10 Important Notes when Going to Fansipan Legend Cable Car in Sapa
Before Fansipan Legend cable car was built, the only way to conquer Fansipan – " the roof of Indochina" was by hiking 2-3 days. However, from now on, with just 15 minutes, you can reach to the top of Fansipan and admire the best experience of being on top, gazing out to the breathtaking mountainous scenery. However, there are some notes when going to Fansipan cable car that you should keep in mind to have a safe and joyful trip.
https://www.facebook.com/AmazingThingsInVietnam/videos/1668315089977545/
See more:
1. Fansipan Cable Car Price
The Fansipan Legend Cable Car price is 700.000 VND/pax/round trip.
You can book here with a discount up to 20%
There are a few places that you can buy tickets to Fansipan cable car. If you are in a big group or visiting Sapa in the peak season, you can book in advance online without having to queue in a long line.
If you travel with a small group or in the low season, you can buy tickets directly at Sun Plaza, right in the center of Sapa or Sapa station.
2. Operation time
Due to the operating time of the Fansipan cable car from 7:30 to 17:30 daily, it will be difficult to catch sunrise or sunset on the top of Fansipan. However, manage to be here at noon, when it is less foggy, vibrant sunshine with cool breeze, thus helping you have a great time here to enjoy the stunning landscape around and having the best photoshoots.
3. The difference in altitude and temperature
Unlike trekking, the difference between the two terminals is 1410m and it only takes about 15p to cable up to this height. So when the cable car to Fansipan station, you will have tinnitus and a slight elevation shock because the body has not adapted to the new height. The best way to reduce this effect is to take a deep, steady breath. In addition, you should also bring towels, a warm sweatshirt because the temperature on the top is lower and the wind is also stronger. If you have trouble breathing or have abnormal symptoms, you must contact the station staff immediately for medical assistance.
Besides traveling by cable car, you have to walk 600 steps to reach the top of Fansipan so you should wear low heeled shoes to go easily.
4. Mountain train Muong Hoa
Starting from Sun Plaza (Sapa town center) to Sapa station (Muong Hoa station), if you take the Muong Hoa mountain train, you don't have to take a taxi to Sapa station but still admire the majestic panorama view of Muong Hoa Valley. Muong Hoa mountain train tickets cost 70,000 VND per person/round trip. The train runs continuously so you do not have to spend much time waiting. The train station is designed in a European style, quite spacious with beautiful corners, making it a great place to have some best pictures in Sapa.
This is the easiest and best way to get to Fansipan Station from Sapa center since the Sapa Station is 3km away from Sapa center.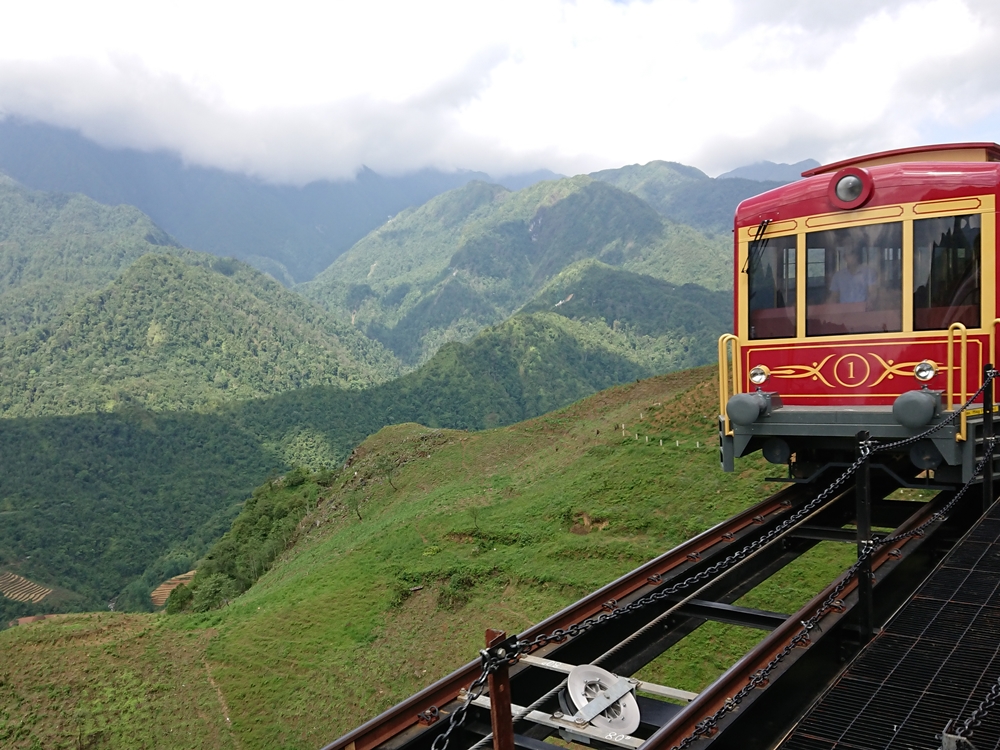 5. Do Quyen mountain train
From Fansipan Station to the peak, you need to climb up 600 stairs. For those who are in good health or on the good weather, this would be no problem. But with the elderly or visiting on a windy day, you should choose Do Quyen mountain train to get to Fansipan peak. Depending on the situation, you can buy a one-way or round-trip ticket. Ticket price is 100.000/time with 1-minute ride. This would save time as well as keep you in good health to visit other attraction nearby such as Lower Temple, Upper Pagoda and the beautiful road of Do Quyen flowers on top Fansipan.
7. Temple system in Fansipan 
Fansipan Sapa has a temple system, you should wear discreet and polite clothes when you go to spiritual and sanctuary place.
Step out of Fansipan Station, you will immediately go to the Temple of Heaven (Thanh Phong Thien). At this point, you can write a prayer for yourself and your family. During the 600-step climb to the top of Fansipan, from Lower Temple to Upper Temple, you can also listen to the meditation music which is very pleasant, feeling like entering the Buddha realm. Do not forget to visit the statue of Amitabha Buddha, the highest bronze statue in Vietnam (21.5m), which is considered the symbol of Fansipan spiritual culture. There are also Kim Son Bao Thang Tu, the Great Bao Dai Palace with many statues of Buddhas created by the monk, monolithic 11-story monolithic stone, the Arhat Road with 18 bronze statues of Arhat, the two sides are Do Quyen flower blooming. Along with that, there are many typical Buddhist works such as Bich Van Thien, Bodhisattva Avalokitesvara statue, bell tower – Vong dao tower, Son Than shrine …
8. Food center in Fansipan Legend
Come to Fansipan Legend, you can experience and enjoy the food at Do Quyen Restaurant (at Fansipan Station) and Hai Cang Restaurant (at Sapa Station). The restaurants and coffee shops here offer a variety of European and Asian dishes, specialties of Sapa such as lợn cắp nach (special pork), salmon hotpot, grilled fish and many other regional dishes at affordable price. The difference in taste of food at Fansipan Legend is not only in the level of brand and taste of each dish, but also in the space of elegant French architecture blended with North West culture style in each detail.
9. Van Son Tea House
On the same 600-step route to Fansipan peak, near the Lower Temple, you will go across Van Son Tra Quan. (Van Son Tea House) . This place has a design that reminds you of Tru Vu Tea House in Ba Na Hills with  style of tea ceremony. This place is surrounded by clouds, you can enjoy a cup of hot tea, watching Do Quyen flowers and find your inner self.
10. Hotels and Accommodation
At present, the hotels & accommodation in Fansipan Legend cable car are still under construction. You can only explore the day and not overnight at the top. The only hotel under construction is MGallery in Sapa town center, which is co-operated by Sun Group with AccorHotels. The hotel is also the starting point of the train to Sapa station (Muong Hoa station) under the Sun Plaza complex. However, you do not have to worry, because the train station is located in the center of Sapa, so you can stay in other hotels nearby such as Sapa Charm, Amazing Sapa, Pao's Sapa Leisure, Silk Path Grand, Sapa Highland etc. and walk to the place.
Who should not take the cable car? 
People with respiratory and heart problems, or afraid of heights should be encouraged not go to Fansipan by cable car to ensure health. Up to Fansipan's peak, the air is very weak, you should rest for the body to adjust to the temperature and climate.
The provisions of the cable car:
– You do not carry toxic chemicals, explosive materials, and prohibited substances to the cable car. – Do not bring food from outside to the cable car (you can carry a little water). You can use the services available at the cable car.
– In the cabin, you are stable and do not move when the cabin operates (especially with children). During the operation process, if have wind, the cable car could sway lightly a little bit, but tourists do not be afraid because it is a very normal thing.
With the experience that we share, hopefully, the visitors can get the perfect journey of discovery the Roof of Indochina.
Fansipan Legend Cable Car Reviews
Always being top 5 of things to do in Sapa, Fansipan Legend Cable Car has earned plenty of excellent reviews on TripAdvisor.