Thang Hen Lake – A Charming ever-sapphire-blue lake in the middle of the forest
Located above 1000m from sea level,
Thang Hen Lake
consist of 36 natural freshwater lakes with 3000m in length and 1000m in width, 10-40 in depth. Thang Hen Lake is featured with charming landscape of green trees, blue water, and the bending lozenge shape around the valley. This lake is promising to be one of the top attractions in Cao Bang province, along with the breathtaking
Ban Gioc Waterfalls
.
Thang Hen Lake is mesmerised us with its beautiful sapphire-blue surface like a jade mirrow, nested between the green forest, creating a stunning picturesque. You will be immersed yourself in nature with old forests and rocks.
Thang Hen means "bee's tail" because if you see it from above, it looks a lot like a bee's tail. Actually, Thang Hen is rhombus, 100-400m wide, 500-1,200m long, depending on each season. The upstream is a large cave waters all the time. Especially, Thang Hen Lake has 2 wave times a day, up and down. If you stay overnight, around in September to October, you will see the lake drain in just a few hours and then full again.
Another factor makes Thang Hen attractive is beautiful natural scene in 4 seasons. When spring comes, wild flowers begin to blossom. In summer, when the water is full, the lake surface is 400m wide and 1,200 long. Whilst any other lake has red water color in the rainy season, Thang Hen Lake is still stably green in the middle of the forest. In autumn and winter, the water is less, the deepest spot is only 5mm deep but the scene is so amazing. The lake surface is like a giant mirror or a big pearl in the forest.
Thang Hen Lake has a cliff which is 5-30m deep with plenty of hundred-year-old rare timber trees, orchids and wild animals.
Beautiful natural scenery of mountains, forests, valleys and rocks are the best things of this lake.
Starting from morning when there are clouds surrounding around mountains, you will see Thang Hen is so beautiful in the magical mist layer. At the bound are grass carpets with pink, purple and white color of wild flowers. When the sun goes up, the sun shines down Thang Hen Lake makes the lake become sparkling. Faraway are simple pretty houses on stilt. Immersing yourself in that atmosphere will make you comfortable, peaceful and relaxed. You can visit Thang Hen Cave or go for a walk around the lake, enjoy the fresh air and learn more about the local culture.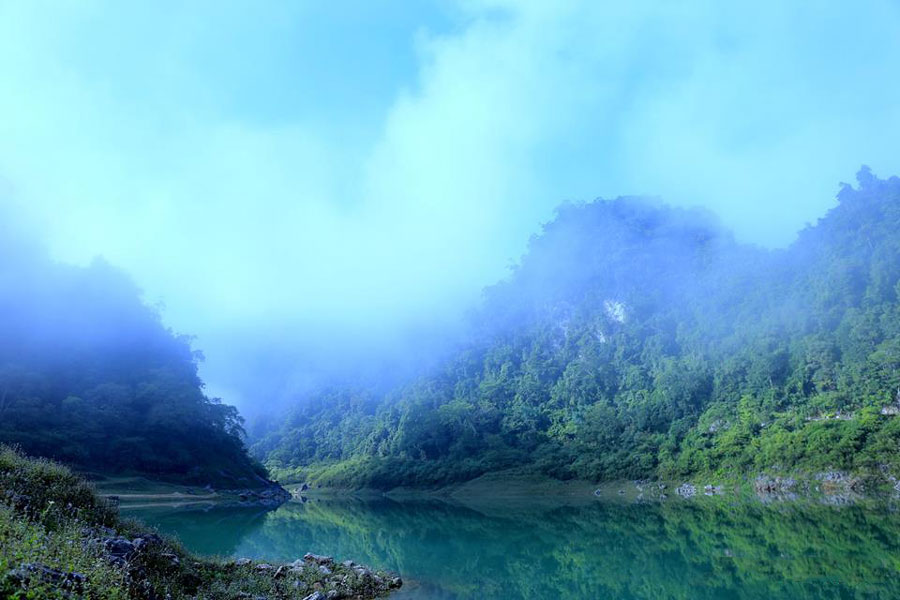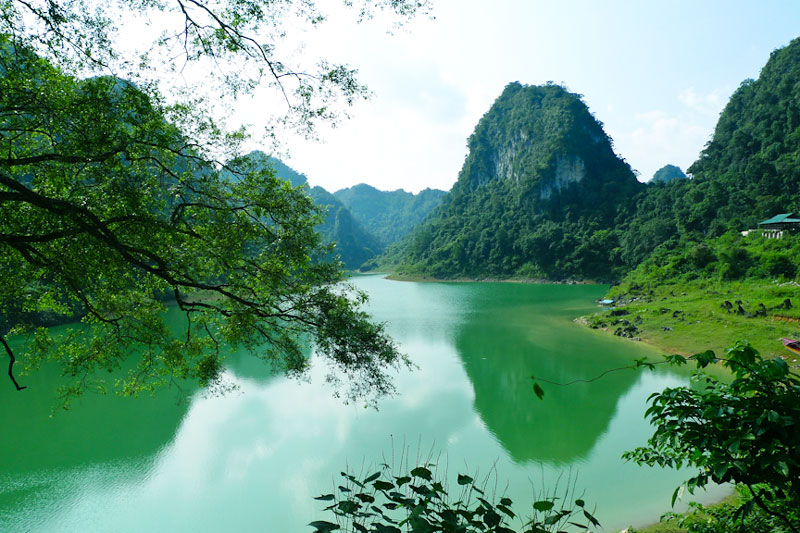 Don't forget to try specialties here. Many tourists like the feeling of fishing by themselves at Thang Hen Lake and they can enjoy the fish they caught.
It would be a memorable experience if you stay here overnight. By the fire camp, dances and songs, enjoy dishes like grilled chicken, grilled pork. Especially, it will be more interesting if you try the taste of corn wine brewed in traditional way of Tày ethnic.