Top 4 oldest hotels in Vietnam
Known as the lavish destination of high-ranking French and French high-ranking officials, these hotels boast a splendid beauty, from architectural lines to luxurious at the center of the city. Through the ups and downs of history, only a handful of hotels preserve old beauty and continue to grow to this day. Together with Bookhotel.vn to see the image of the old-world hotels are called "historical witness". 
Hoa Binh Hotels (Peace Hotels)
Founded in 1926 with the best location in Hanoi capital, near the center of culture, commerce, finance, Hoa Binh hotel is one of the unique architectural works marked by the French . Over 100 years of establishment and development, Hoa Binh Hotel has been honored to receive many diplomatic delegations, senior leaders and businessmen in Vietnam and internationally. 
Address: 27 Ly Thuong Kiet, Hoan Kiem, Hanoi, Vietnam
Phone: (84-4) 38253315 - 38253692
Website: www.hoabinhhotel.com
Sofitel Legend Metropole Hanoi Hotel 
Operated in 1901, Metropole is the first five-star hotel in Vietnam, considered the pride of the capital at the time. The hotel was honored to welcome the world's top celebrities, such as Charlie Charplin, Somerset Maugham, and Graham Greene (American novelist, author of "A Quiet American").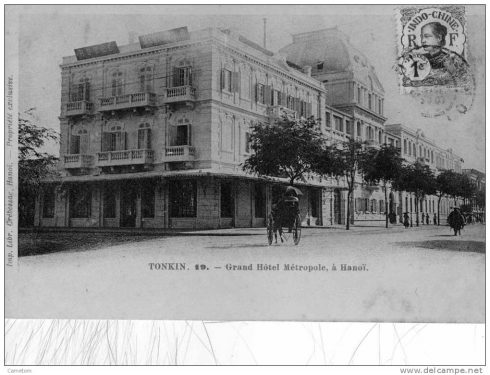 It accomodated  many famous people throughout the world during the first half of the 20th century. In August 2011, a secret underground bunker was found here, which further elevated Metropole's unique place. Today, the hotel was renamed Sofitel Metropole Hanoi and has always been one of the top destinations in Hanoi for businessmen, famous artists and politicians  in Vietnam and in the world.
Address: 15 Ngô Quyền, Hoàn Kiếm, Hà Nội
Contact: (84-4)3826 6919
Website: www.sofitel-legend.com/hanoi
Continental Hotel
Established in 1878 by Pierre Cazeau – a French businessman, the Continental Hotel is famous for its long history. By the 1880s, Continental had become a destination for high-ranking British politicians and writers such as the Indian poet Rabindranath Tagore, the French poet André Malraux, the British novelist Graham Greene.
Address: 132-134 Đồng Khởi Quận 1, TP.HCM 
Phone: +84. 8. 38 299 201
Website: http://www.hotelcontinentalsaigon.vn
Saigon Hotel – Morin 
The Saigon – Morin Hotel was built in 1901 and is owned by Bogarde – a big French businessman. The hotel owns unique French architecture located in the heart of Hue city.