Topas Ecolodge Sapa Reviews – Is it worth staying?
This is heaven on earth. The view is breath taking and if you look for tranquility, you'll find it here at Topas Ecolodge. Follow us to see if Topas Ecolodge worth spending 200$/night?
Located about 18km from Sapa Town, Topas Ecolodge is a quaint and charming mountain property where guests can freely mingle with the ethnic villagers.
This small lodge is situated on a beautiful atop two cone formed hills, set deep in the spectacular Sapa valley.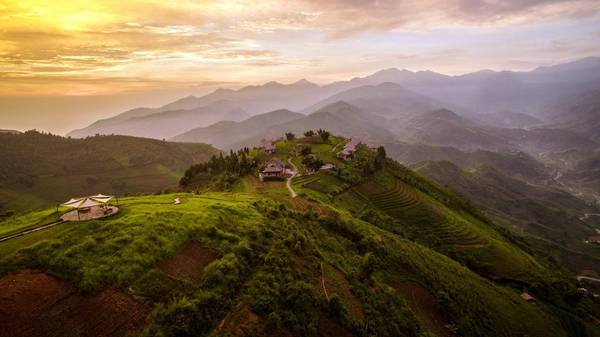 Topas Ecolodge first started to consider building the lodge was to create a comfortable base near the minority villages, giving guests the option of a comfortable stay in a remote area, close to nature and local life, a perfect get away from a hectic life.
Topas Ecolodge is built simply that would have minimal negative impact on the natural surroundings. Topas Ecolodge opened in April 2005, with no electricity, no mobile reception and no internet. Much has happened since. If you are looking for fully-service, luxury resort, Topas Ecolodge might not be the one.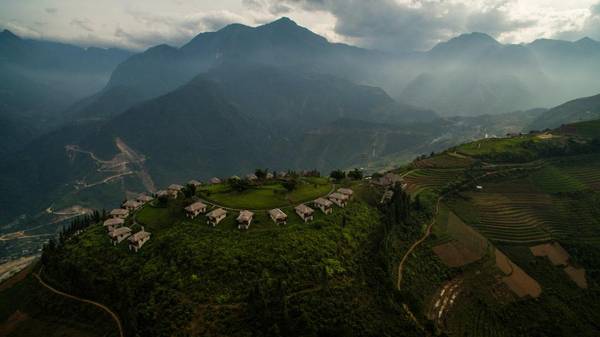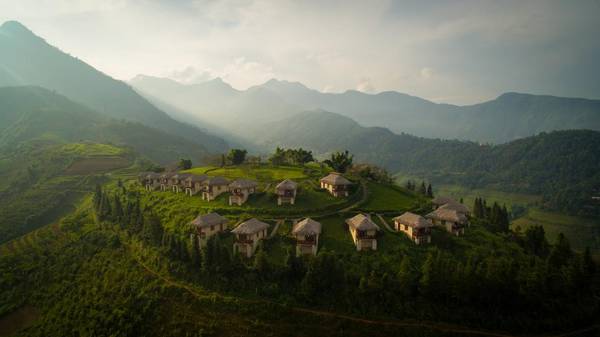 Topas Ecolodge consists of 33 stylish chalet-style stone bungalows in local white granite from Hoang Lien Mountains  each with its own spacious balcony overlooking an expansive vista of towering mountain peaks and stunning, rice terraced valleys. All furnitures are made of eco-friendly materials such as wood, bamboo and some are made from stone with stylish designed, creating a simplistic cozy romantic space but elegant none the less.
Inside you will not find any TV's, you will not find WiFi access, but what you will find is views that will truly stop you dead in your tracks!!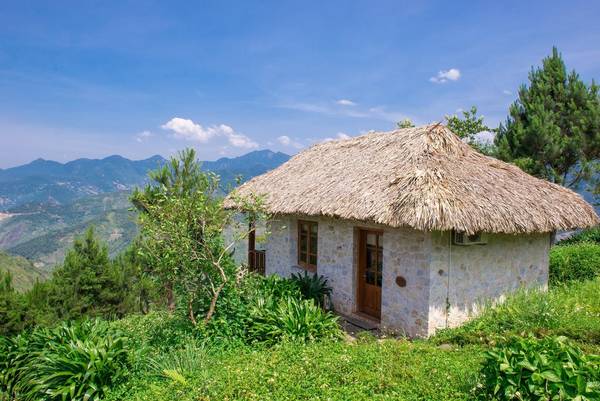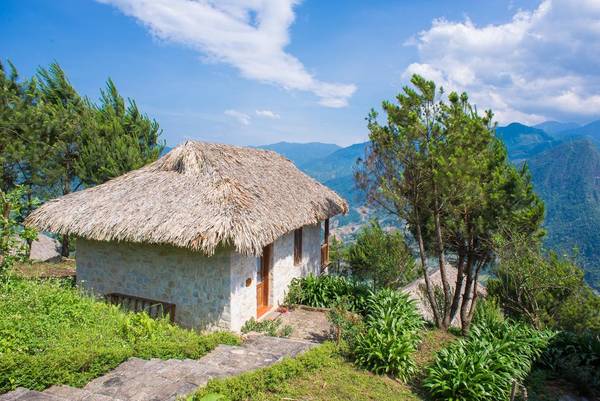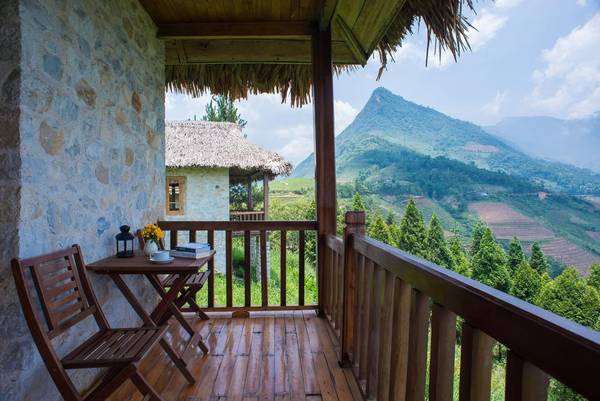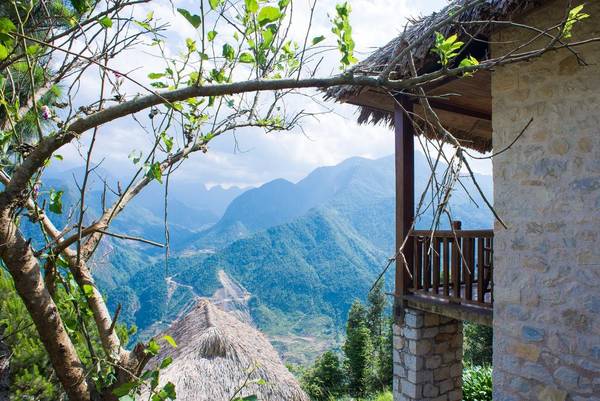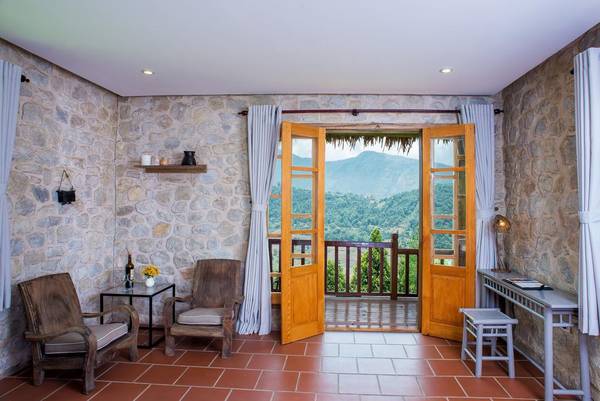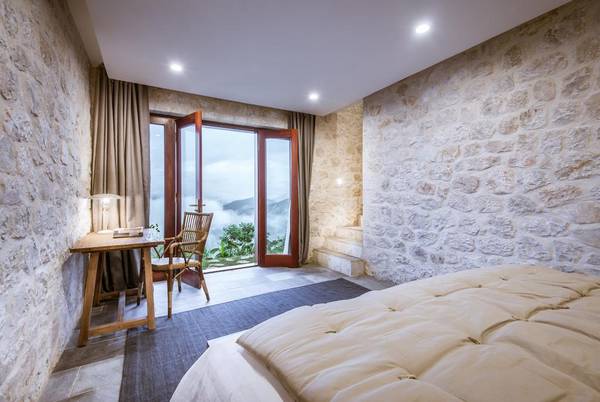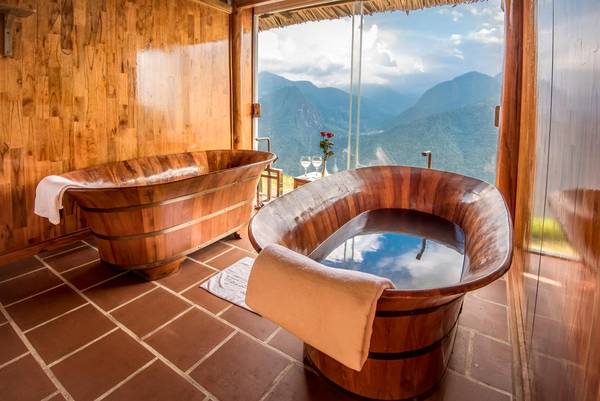 Together with the restaurant, they also have a lodge lounge.
Here you can enjoy relaxing whilst also catching up on life and goss on the web.  It is one of the few spots at Topas Ecolodge that has Wifi access.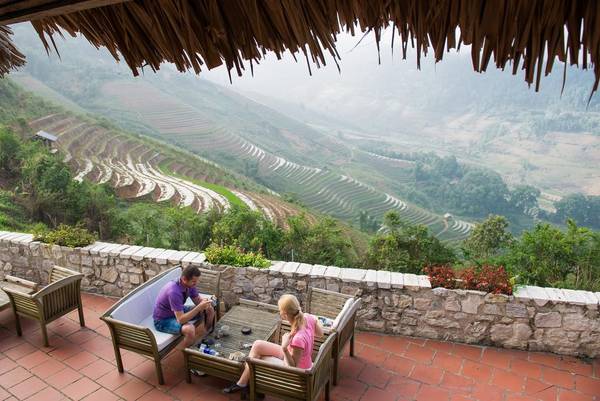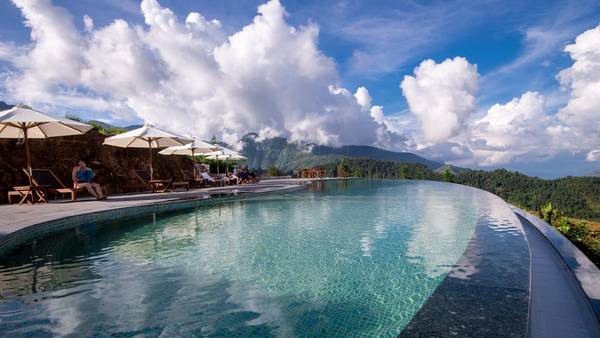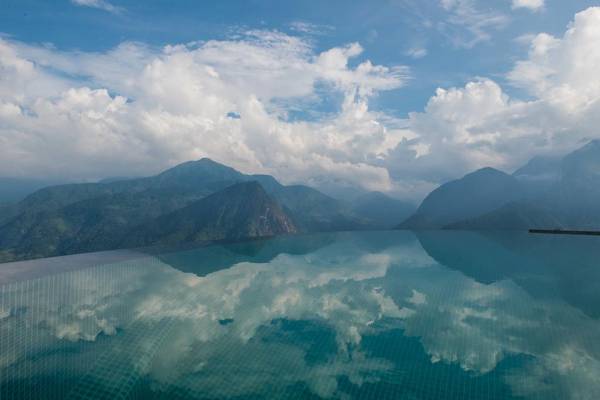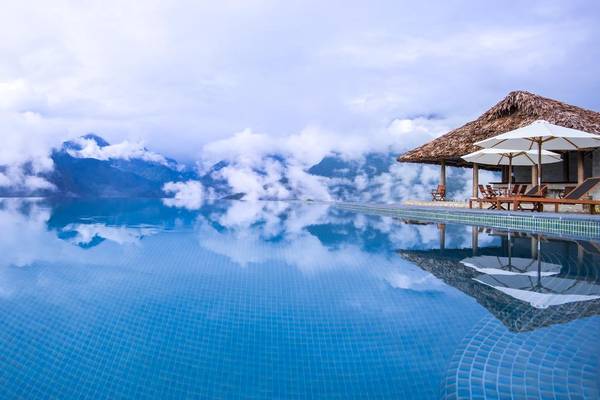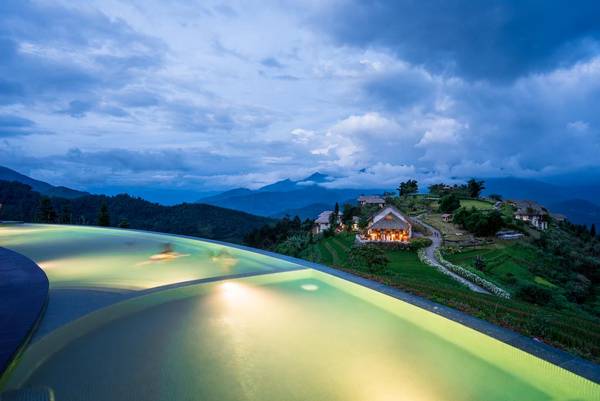 One of the best part of Topas Ecolodge Hotel is the infinity pool with sensational view of Sapa, well probably it is the reason why Topas Ecolodge Hotel Sapa is on your bucket list.  The pool is partially designed only for kids, which has massage function, especially, the pool water is warm, that keep you warm enough to enjoy the foggy view of Sapa. The pool water is constantly heated by the eco-friendly systems, using energy -effecency that save over 85% comparing to the standard technology.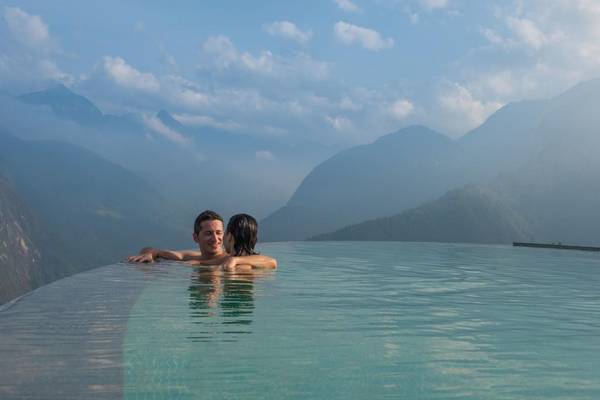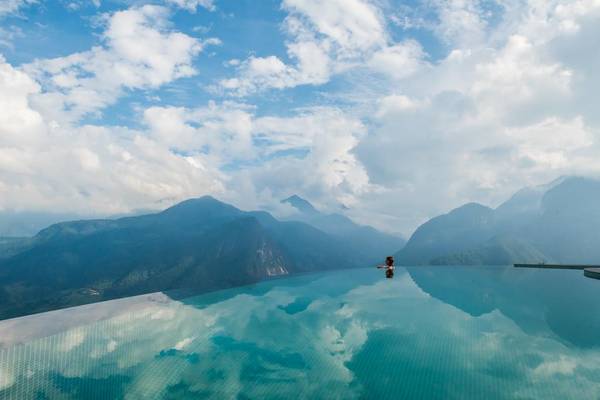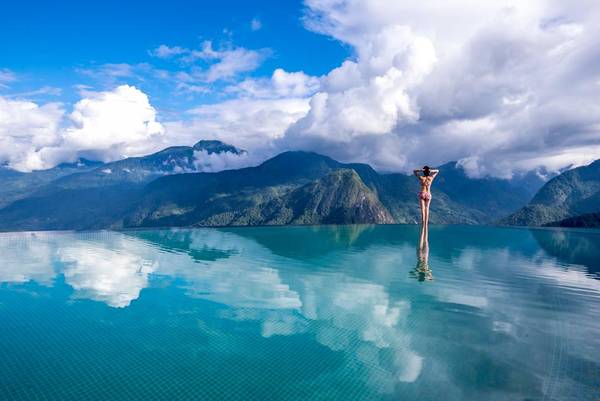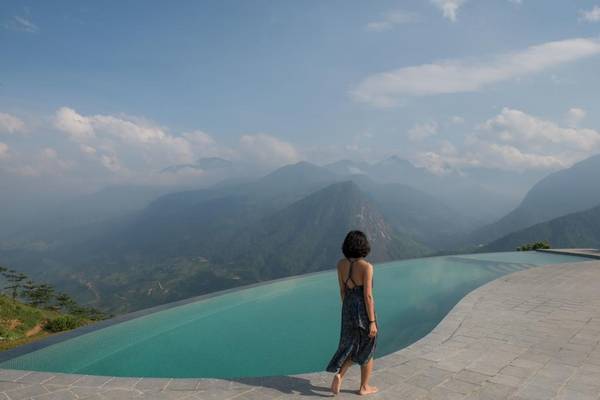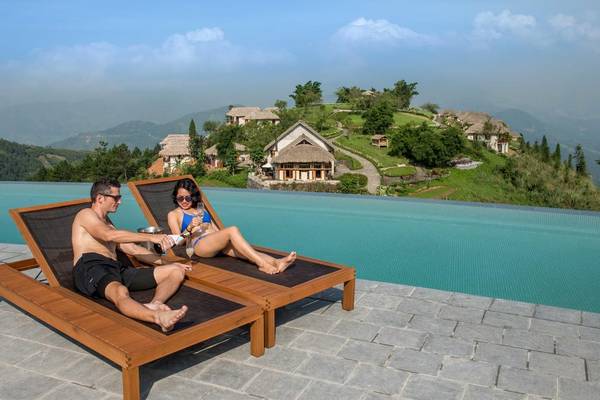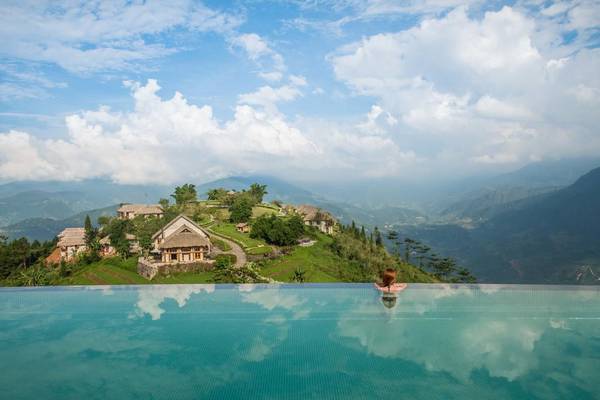 The inifinity pool lies amidst terraced rice fields, on the top of the resorts, and only a few steps from bar and spa area.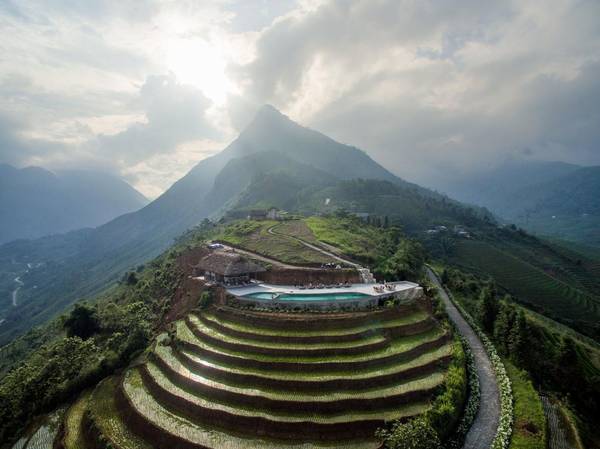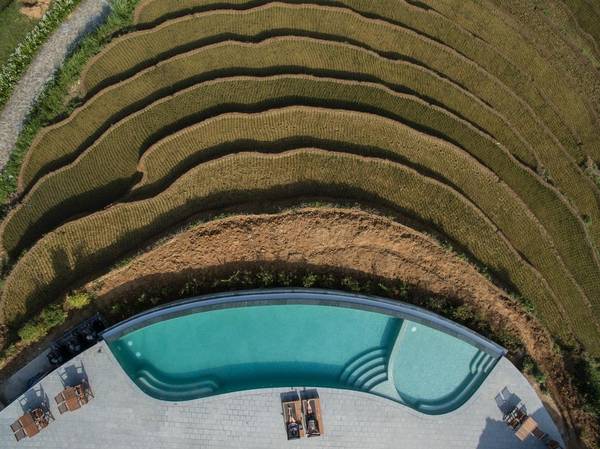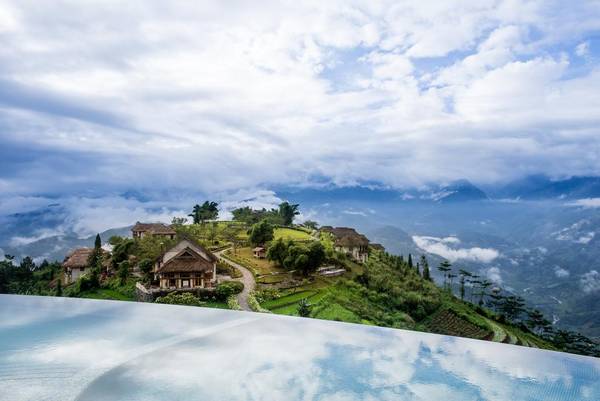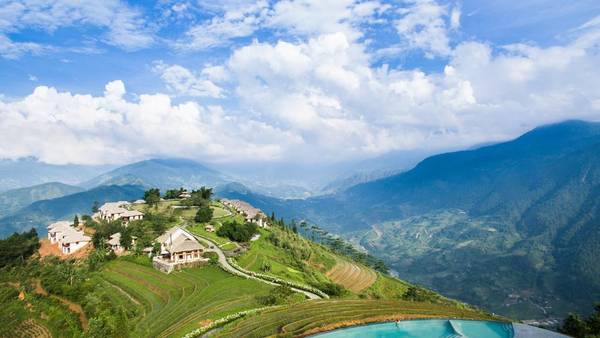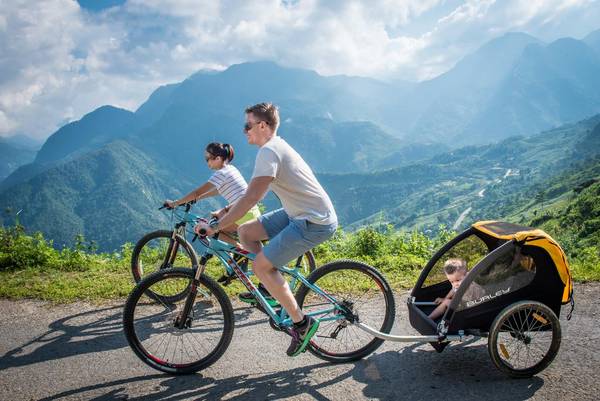 Should you stay in Topas Ecolodge Sapa Resort?
A Big Yes : Definitely worth to spend at least a night here if  you don't mind about the rate. The views from the the resorts are extremely amazing and you will feel secluded from the world. A good place to come and relax and breathe.  Be present and absorb how lucky you are to be in such an incredible spot!
However, here are some few tips to get the best of your stay:
You need to book 2 months in advance since it is always in fully reservation.
The view from the resort are trully incredible but it does not happen anytime. Since it is high up in the hill, the weather plays an important role. It goes the same with visiting Fanispan mount. But when it is clear, the view is amazing that you will never forget.
Staffs mostly can't speak english, but they are more than willing to assist you.
The bus journey from Sapa Town to the lodge takes approximately 45 minutes. The road condition is fairly poor in places and because you'll meet many of the ethnic minorities of this area and probably a few buffalos.
The options for dinner is basic with either a buffet (350k dong) or a limited a-la-carte menu (about five options roughly 150k dong each)
The rooms is quite permenant damp (again due to the weather), so be aware of bugs or mosquitoues. You better bring along bug spray or can buy from the reception area. They is also a mosquito net available.
Due to our mountain location, sometimes the weather is clear and sometimes it is cloudy, and after a heavy rainfall it can be very muddy. At times we experience power cuts and during the rice planting season we have some struggles with our water supply.
If you are not the hotel's guest, you can still use the infinity pool from 10:00 AM to 4:00 PM as long as you buy " Day Pass Tour" sold in the resort office. The rate is 500,000 VND/adult and 250,000 VND/ child.

Some small note about the tour: 

Number of booking is limited in a day and can not booking in advance.
The booking address: 21 Muong Hoa Street, Sapa Town.
The rate does not include entrance fee ( 75.000 VND/pax)
The tour is not sold directly in Topas Ecolodge Resort.